We've been busy this week!
Two trips to Mill Creek. One trip to Pluto Caves. And a day at Rattlesnake, where we picked up garbage, built steps, cleared trails, moved rocks, rolled logs... and did other, various "caveman-type" activities. There was snow. Can you believe it? Snow, in February!? The Rattlesnake clean up was a great success, however, all improvements from The Snake, is for another day. In the meantime, I want to share with you the recent happenings up at Mill Creek. Here's a little preview:
(Thanks for clicking this link... please come back to the blog after watching)
Mill Creek was a very magical place or us this last year. As far as climbing goes, it's been amazing, and quite unique. So, I'm gonna say this right away: it's the best bouldering in Oregon. That opinion may be biased, so take it with a grain of salt. However, I have yet to find a pace in Oregon that has what Mill Creek does. Beautiful, class 5 rapids, which rage between two, 100 foot tall, basalt canyon walls, carved through a pristine, Oregon pine forest. Because the boulders lye in the bottom of the canyon, near a river, at an elevation of nearly 2500', the temps are usually cooler than other places, making it perfect for summer bouldering! There is less rain than everywhere up north. The humidity is usually pretty low. There is shade and sun, with water for cooling off in (or ice your forearms). And the best part: it's just under an hour from Medford, making it easy for after-work sessions. The only downfall is that the climbing is tough!
(Jesse Firestone on The Grey - V8, Mill Creek)
Here's why: For thousands of years, the Rogue River has polished, and wiped clean all texture that used to exist on these rocks. No texture is like climbing on glass. So start building up your contact strength, because anything close to the river will test how hard your fingers can press.
Another reason there are so many hard problems is because all of the vertical or less than vertical boulders, that aren't polished by the river, are covered with moss. Making it difficult to clean and find easier problems.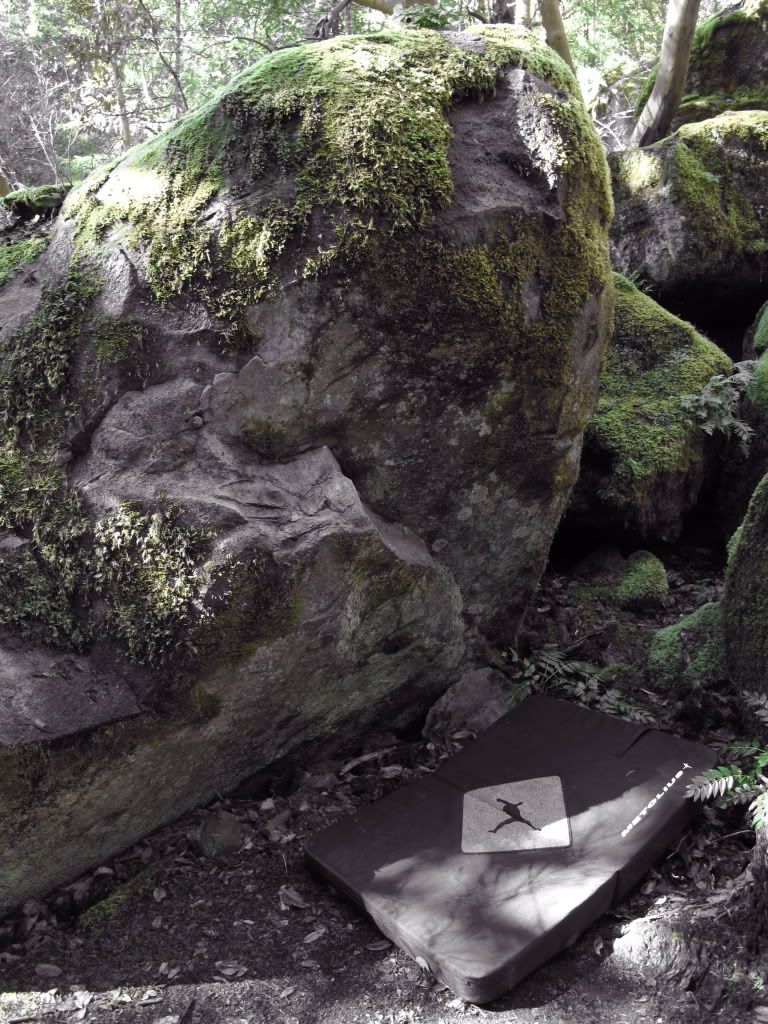 (Warm up boulder. A few fun, easier problems... covered in moss)
Luckily, I have been out there, scrubbing holds and moving rocks, trying to establish a good amount of moderate problems...
(Does anyone know if moss is good to eat?)
It's slow going, and it takes a lot of patience and determination to, literally, scrub rocks for hours. But it's fun too! That's why I do it. Sometimes it feels like Easter... when I move a piece of moss and discover a perfect pocket or a hold, right where I need one. Sometimes it turns into a mad dash! How many holds can I find?! Or, occasionally, I'll find a giant spider or a scorpion (<-- true story). Sometimes it's just smooth, gray rock as far as the hands can reach... but, eventually, we discover that egg we've been looking for.
(Me on
Ghost Ride
- V2)
Ghost Ride the Whip uses the sloping rail on the right, to gain the lip. Ghost Ride has a couple of fun mantles with a technical slab section in the middle, eliminating the sloping rail, making it a little harder. There is also a V3 sit start to Ghost Ride, A dynamic, edgy V2 ( further right ) and a fun crimpy V0, with some side-pulls and a mantle to finish on the far left. All around, one of my favorite boulders at Mill Creek. It has excellent landing zones, a fun top-out, and is located in a nice shady area near the House and Shed boulders (You'll know the House boulder when you see it).
Along with the Ghost Ride boulder are dozens of others, waiting to be climbed. Like this one:


(This is Frankenstein... He wants to get climbed!)
The Frankenstein boulder holds 5-6 problems that range from V0-V5. However, I don't really know for sure, because I haven"t climbed any of them yet! But, the rock is really cool looking, with some fun holds and cool looking features.
Frankenstein and the Ghost Ride boulders are just a small sample of the potential that Mill Creek has to offer. Our goal is to keep cleaning and climbing out there and I want you all to be there too. But, please remember, Mill Creek is a public park, with lot's of visitors. Please show respect to the land, the people, and the rocks. It's easy for people, including climbers, to get out of hand (i.e. Roadside Crag closure at the Red River Gorge). Please follow the leave no trace ethics, or even better, bring someone else's trace out with you! (No, I'm not talking about that kind of trace)
Eventually, there will be some sort of guide for Mill Creek floating around. In the meantime, explore for yourself, find something new, or ask me if you have any questions. There will be more to come on Mill Creek and specifics on some of the problems. But, until then, I hope to see you all out there!

Keep Crankin!



soclimbing@gmail.com